Do they want another Tory – in the shape of ousted councillor Ged Hall who gave up his seat in Frensham, Tilford and Dockenfield to allow Julia Potts to parachute in – because she feared losing out in Farnham?
A constituency she parachuted into and has barely represented since handing over the Tory Group leadership to Stephen Mulliner?
Has Waverley's former Tory leader gone to pot?
Has anyone seen or heard of the 'Potty One' since she moved away from the district to spend more time with whatever she wants to spend time with other than Waverley business?
We would have liked to have written about Mr Hall's  campaign, but sadly after 30 minutes trawling for information, could find nothing – other than this:
Does he believe standing with Jeremy Hunt will be enough to capture the seat?
Here's the Herald's take on the row that ensued last time he stood. CONSERVATIVE Candidates turned their fire on Facebook community boards for not conducting "a clean fight" in a last-minute social media push before the vote.
Two community boards commanding huge influence in the run-up to the local elections – each supported by more than 16,000 members – then tore into one other for failing to provide a level playing field.
Mounting concern within the Tory camp came to a head when an open letter accusing "certain key community pages" of political bias went public and was met with counterclaims that some candidates were too "fragile".
Mounting tensions within the Tory camp were made public on Tuesday in an open letter penned by Hindhead borough and Haslemere Town Council candidate Ged Hall, which was shared by Godalming and Villages Community Board.
Godalming and Villages posted his letter and detailed response from its team of 11 admins "from a mix of political leanings" and invited comments – triggering more than 200 responses in the first few hours.
Godalming and Villages, which is a public forum with 16,900 members, added it was founded to promote free speech because it believed the Godalming community board, a closed forum with 16,500 members, was "controlled by primarily Conservative council supporters"
Godalming community board responded:
"We welcome healthy debate at election time."
Mr Hall, was blocked by Godalming and Villages until 6 pm on election day, but was reinstated after the election. The local Tory association reported an obscene post to Surrey Police.
In the meantime – The Lib Dems are working hard for a win on June 23rd for Julin Spence seeking a Waverley seat and Conrad Waters for the Haslemere Town Council seat left vacant by the death of Cllr Peter Isherwood. The Tory councillor who died recently used his casting vote as chairman of Waverley's eastern planning committee to open the flood gates for one of the most controversial housing developments in the eastern villages.
Warm reception on a warm day in
#Hindhead
&
#BeaconHill
. More and more residents telling us they're backing local Lib Dem campaigners Julian Spence & Conrad Waters in the June 23rd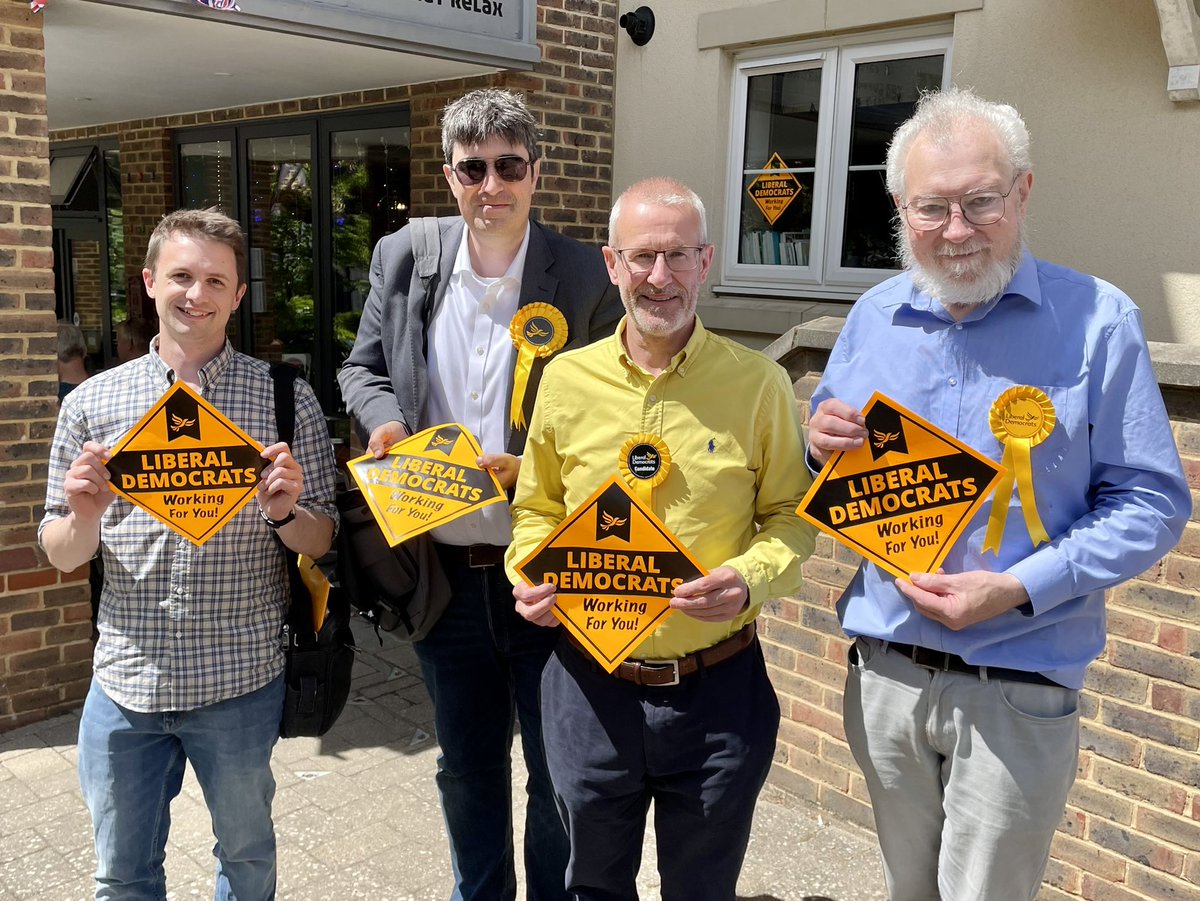 Cllr Liz Townsend BEM Out with the #Hindhead #BeaconHill team #ByElection for Julian Spence for Waverley Borough Council and Conrad Waters for Haslemere Town Council – two fantastic candidates.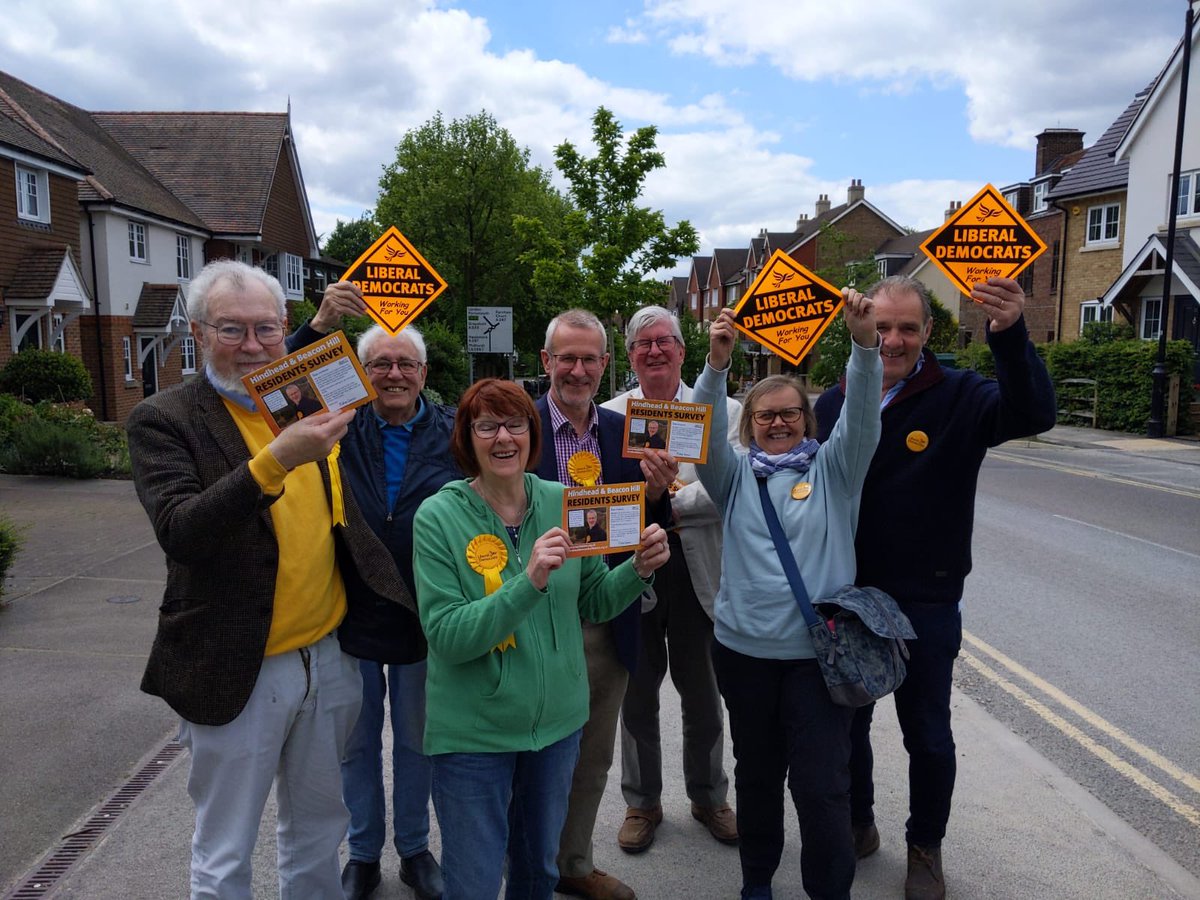 Another fun afternoon canvassing with  Julian Spence & Conrad Waters for the June 23rd 
Waverley Borough Council
Election of a Borough Councillor
The following is a statement of the persons nominated for election as a Borough Councillor for
Hindhead
Name of Candidate
Home Address
Description (if any)
Name of Proposer (*), Seconder (**)
Reason why no longer nominated*
HALL
Ged
Bracklands, Hazel Grove, Hindhead, Surrey, GU26 6BJ
The Conservative Party Candidate
Edwards James *
Edwards Lesley **
SPENCE
Julian Hewitt
10 Star Hill Drive, Churt, Farnham, Surrey, GU10 2HP
Liberal Democrats
Davidson Jerome M F *
Whitby Geoffrey C **
Election of a Town Councillor
The following is a statement of the persons nominated for election as a Town Councillor for
Haslemere – Hindhead Ward
Name of Candidate
Home Address
Description (if any)
Name of Proposer (*), Seconder (**)
Reason why no longer nominated*
CARTER
Malcolm
The Firs, Fairways, Hindhead, Surrey, GU26 6PJ
The Conservative Party Candidate
Alliss Jacqueline *
Potter Keith **
WATERS
Conrad Alexis
Two Beeches, Tilford Road, Hindhead, Surrey, GU26 6RA
Liberal Democrats
Davidson Jerome M F *
Whitby Geoffrey C **