Last year 'Your Waverley' announced that the future of Farnham Museum and Woolmer House, the town's Grade-1-listed building, was in doubt.
So how about filling all those vacant retail shops in Blightwells Yard with a Farnham Museum?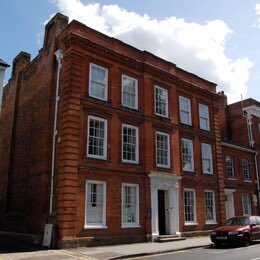 Waverley Executive Portfolio Holder Cllr Mark Merryweather looked sombre as he told the Full Council last year that the treasured property (above) needed an estimated £1.1m spent on repairs. An options appraisal commissioned by the council had been unsuccessful in acquiring grants despite pursuing every possible funding stream.
The WW heard from  Farnham resident Clifford Jones saying.
In early November 2021, there were just six contractors on second fix work at Brightwells and one commented it didn't look as if anyone was in a hurry to finish any of it. Why would anyone be? The World had moved on long before the first concrete had been poured."
Another Farnham resident David Wylde said on his recent visit to Sainsbury's through Cambridge Place, he asked workers when they believed Blightwlls would be finished?
Workman 1:  

Two or three years; the buyers of apartments in the completed block that butts onto Cambridge Place were due to move in last October, but can't because there is no water or electricity

."
Workman 2:
"Five years," he said very assertively!
Workman 3:
"2025" (three years time) "and they'll have to drive it along, because there's still a lot to do."
Crest Nicholson: Whose mouth has always been bigger than its trousers, according to Mr Wylde.
has taken five months not to tell us how many retail options have been taken up."
However: Andy Macleod gave this update to 'Your Waverley's' Executive last week. Blightwells coming to Farnham sometime, anytime – whenever?
In the meantime, Mr Jones has his cunning plan.
He believes moving the Farnham Museum and other public facilities into the empty Blightwells units would take the town forward. Why? Because it's cheaper for the council to say it will use the space themselves and effectively have built new facilities for the community. Then write off the debt over an extremely long repayment plan.
He would rest control from The Farnham Maltings at the earliest opportunity. Put the collection into the hands of the Town Council. Form a charitable trust that will rent the collection from the Town Council for a nominal sum and move it into Brightwells.
 The debtor retail can be swallowed if the Council uses the space. I realise this sounds simplistic, but sometimes it's better to think that way rather than the highly professional peple who  seem to have created this disaster. If  the Museum and Library were moved to Blightwells you have two valuable assets , ideal for conversion into residential to sell?

Then there are the numerous social and charitable institutions that if housed together, sharing space,  would offer a central administrative hub for their activities. Thus cutting costs.

You can fill Brightwells, cut the debt and give Farnham residents something they can be proud of.

Let us be frank. Farnham retail is hanging on by a thread. Car parking charges are withering custom away. People have less spending power. The public infrastructure needs updating to modern standards; Surrey County Council's  ineptitude plays right into Farnham's hands.

Let's see if, just for once, some good can come out of the mire.
Both the present and former council administrations have battled with the problem of how to fund essential works to the important public building, operated by Farnham Maltings, to ensure it remained in good condition.
Looking visibly sad, Cllr Merryweather said:
Here in Waverley, we believe that Woolmer House and the Museum are essential assets, and the museum is giving sterling service. Specialist repairs, including fees and VAT amounting to around £1.2m, and the added threat of inflationary pressure presently hitting the building profession, would further impact the rising building costs.
He warned: "Waverley borough council does not have the funds or capacity to fund the whole thing alone – we  have to look for third party grants."
The WW also understands from Farnham mutterings that the Museums collection is in a dire state. We will be revealing more in future posts.