Despite the latest gloomy news, and despite Waverley being in Tier 2 – Christmas is going to be a shadow of its former self for many of us – as we now border other towns and villages in Tier 4 with much tighter restrictions.
Only Waverley residents among Surrey boroughs will be able to mix indoors and only on Christmas Day, as opposed to the five-day period originally proposed. But we cannot be complacent. Waverley is still reporting 217 cases in the past seven days, an increase of 104 on the previous week.
It was reported earlier today that there were 608 reported new infections in Surrey and six deaths in Surrey hospitals overnight (Saturday).  This brings the death toll in Surrey to 1,553. 
new Christmas rules?
A brief summary is below:
Anyone in Tier 4 areas, this is all of Surrey except for Waverley, should not mix with anyone outside their households.
Across the rest of the country including Waverley, the rules allowing up to three households to meet will now be limited to Christmas Day only rather than the five days.
People must not break the rules at New Year – as before there will be no relaxation of rules on December 31.
What are the restrictions now in place for most of Surrey?
The new Tier 4 rules are similar to that of the national lockdown in November. They include:
Non-essential shops and gyms in Tier 4 areas must close

Plans to allow social bubbles over five days will be scrapped with only those in Tiers 1 to 3 allowed to form a bubble on Christmas Day itself

People should not enter or leave Tier 4

People can only meet one person from another household in an outside space
The majority of Surrey is now in Tier 4 after new tougher restrictions came into place at 12.01 am this morning.
'We will not be having the Christmas we all hoped for'
Tim Oliver, Leader of Surrey County Council, has issued a statement.
I know this will come as a blow to residents and businesses across Surrey, but it is absolutely necessary that we act fast to save lives.

We are essentially heading back into the lockdown restrictions the whole country was under in November, and unfortunately, we will not be having the Christmas that we all hoped for.

It is tough to take, after a really difficult year but we must keep up the fight. Let's not let our guard down, let's all play our part and keep Surrey safe.

Surrey's Local Resilience Forum, including the county council, will continue our work to ensure that help is available for those in need and our Public Health team will continue to monitor local data every single day to track this virus and stop the spread.

"We will continue to support our NHS colleagues in rolling out the vaccine as fast as possible across Surrey – this is our hope of returning to normal life and we will do everything we can to make this happen.
Coronavirus (COVID-19) latest advice and statistics for Waverley
Waverley is in Tier 2
The borough of Waverley has been in Tier 2 (High Alert Level) since Wednesday 2 December. You can find Tier 2 FAQs by visiting our Covid FAQs page.
Find out more about Tier 2 restrictions
Currently, Waverley remains in Tier 2. However, infection levels are rising and it is more important than ever that residents and people in the borough remain vigilant. 
Those who work in the borough should follow the rules of the tier they live in. Visit the gov.UK website to find out what the Covid restrictions in your local area are. 
---
Christmas bubble

s
On 19 December, the Prime Minister announced there would be stricter restrictions to Christmas bubbles.
Bubbles of up the three households in Tiers 1, 2 and 3 will now only be allowed to meet on Christmas Day, instead of meeting across a five-day period. 
Households in Tier 2 have been told to stay local and not to host people from Tier 4 areas. 
Fear Not – help is on the Way. Here's the Pre-Christmas scene at St Christopher's Church in Haslemere. How apt that the authorities have allowed a church to be used to bring us tiding of great joy.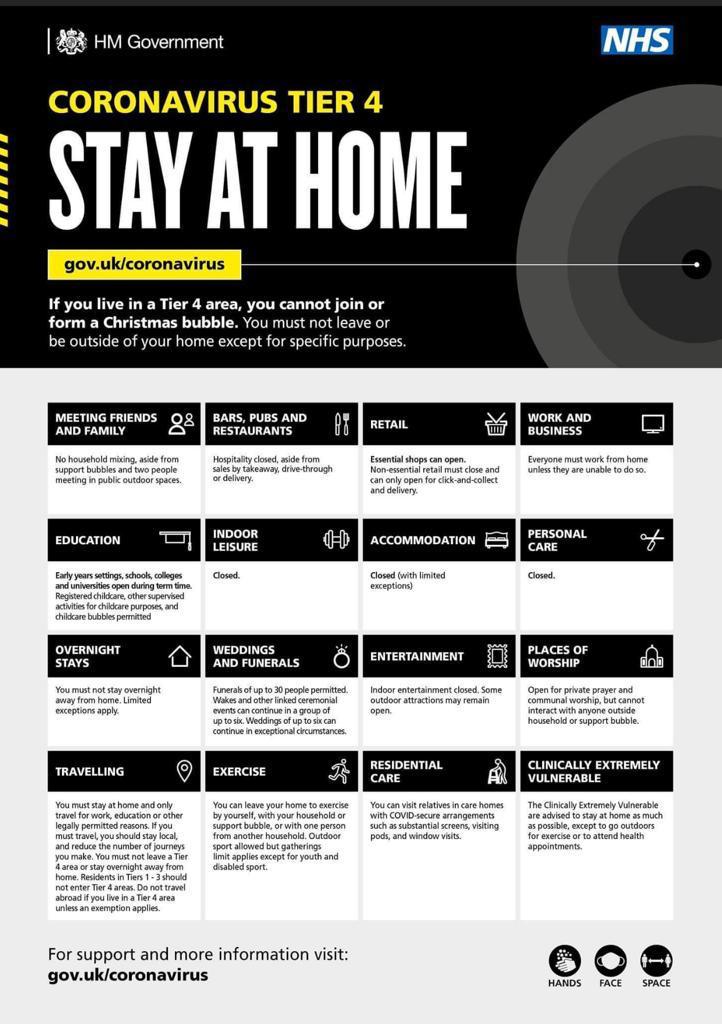 Surrey County Council's Community Helpline is still active to aid those in need: Community Helpline number: 0300 200 1008