The future of Farnham Museum, and Woolmer House the town's Grade-1-listed building, could need outside support.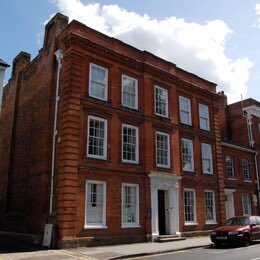 Waverley Executive Portfolio Holder Cllr Mark Merryweather looked sombre as he told the Full Council that the treasured property (above) needed an estimated £1.1m spent on repairs. The borough council had commissioned an 'options appraisal', but it had not been unsuccessful in acquiring grants despite pursuing every possible funding stream.
Both the present and former council administrations had battled with the problem of how to fund essential works to the important public building, operated by Farnham Maltings, to ensure it remained in good condition.
Looking visibly sad, Cllr Merryweather said:
Here in Waverley, we remain of the view that Woolmer House and the Museum are important assets, and the museum is giving sterling service. Specialist repairs, including fees and VAT amounting to around £1.2m, and the added threat of inflationary pressure presently hitting the building profession, would further impact the rising building costs.
He warned: "Waverley borough council does not have the funds or capacity to fund the whole thing alone – we will  have to look for third party grants."
However,  exacerbated by the COVID epidemic, there was fierce competition for Arts Council grants and other, higher-scoring cases than Waverley's, had been successful in receiving funding.
He believed other independent organisations might be more successful.
Since 2012 the museum service has been delivered by Farnham Maltings with support from the Waverley borough council.
Q

What was found by Ian Fletcher on 28 August 1992 in Farnham Park, which was thought to belong to Henry VIII, and became the subject of a long legal battle before being stolen from Farnham Museum?
A Metal detector enthusiast Ian Fletcher from Blackpool must have rued the day he found a gold brooch worth £20,000 buried 9 inches below the surface, in Farnham Park.
The treasure caused great excitement and speculation, as it was rather similar to a gold pin worn by Henry VIII, on his hat, in a painting by Hans Holbein the Younger.  Rumour had it that Henry had carelessly lost it while out hunting in his Farnham deer park.   
As it wasn't decreed to be Treasure Trove, the courts said Mr Fletcher could keep it, using the "finders keepers" rule.  However, the "losers weepers" in the case; the park's freeholders Waverley Borough Council had other ideas and appealed, saying the brooch belonged to them.
A long battle ensued, but eventually, they won their case and were awarded the brooch and costs, leaving Mr Fletcher broochless and potless, with a legal bill of £35,000.
So proud were they, of their new acquisition, that they immediately displayed it behind a sturdy Georgian window in Farnham Museum, where it was briefly admired by all, before being stolen in a smash and grab raid.